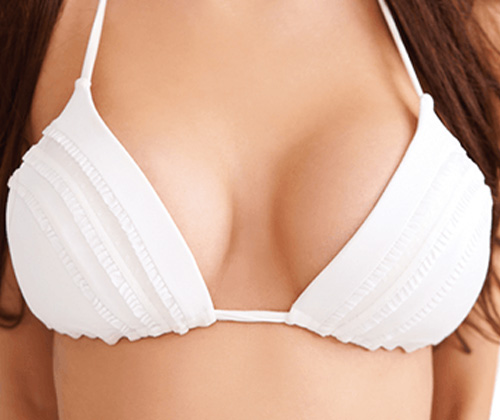 Breast augmentation is a surgical revision of the breasts to make them larger with improve symmetry and to provide increased fullness. This procedure is also known as Breast Enhancement or Enlargement or Reshaping or Augmentation Mammaplasty. There are many reasons for undergoing a breast augmentation, such as to enhance a breast that is naturally small or to restore volume that may have been lost as a result of weight loss, pregnancy or breastfeeding etc.
US FDA approved Silicon breast implants is the most frequently employed method for breast enlargement throughout the World for breast augmentation because of its better & natural feeling and very less chances of complications. Implant type and size will be determined not just on your desired increase in size but more importantly on your breast anatomy, skin elasticity and body type. The method of insertion and positioning the implant will be determined by your goals for breast enhancement, your body frame and your existing breast tissue.
Your own body fat can also be used for your breast enhancement. But the drawback of fat grafting is that the ultimate size of the breast is unpredictable and you may need to undergo 2-3 sittings of fat grafting to get the desired result. The only advantage of using Fat Grafting is that no foreign material is inserted in your body and it is your own fat (harvested from your own tummy or inner thighs) used to increase the breast size.
Step 1: Surgery Prep
After patient arrives at the site of the surgery, surgeon will use a marker to indicate where the breast implant incisions will be made. Pt will be scrubbed with an antimicrobial soap to minimize the risk of infection.
Step 2: Anesthesia
There are several choices for anesthesia during breast implant surgery. These include general anesthesia, conscious sedation and local anesthesia. Make sure that the surgeon and anesthesiologist have a complete list of all the medications you take, and that they are aware of all your pertinent health information.
Step 3: The Surgery
Your surgeon will now make the breast implant incisions you discussed during your consultation. He or she will create a pocket behind the breast tissue or under the pectoral muscle tissue, based on the implant placement position that you have chosen during your consultation. Once the pocket is created, the breast implant will be inserted. If you opted for silicone-filled implants, the already-filled implants will be put in place; saline breast implants are usually filled after the shell is put in the pocket.
After the breast implants are in place, your surgeon will check for symmetry. He or she will place you in an upright position to see how the implants look when you are seated. If everything looks good, your surgeon will close the incisions. Usually, a dressing will be applied to protect the wounds, keep the tissue and implant securely in place, and to reduce swelling.

Step 4: Waking Up
When your breast augmentation procedure is finished you will be awakened and moved to a recovery room. The staff in the recovery area will keep an eye on you for about two hours.