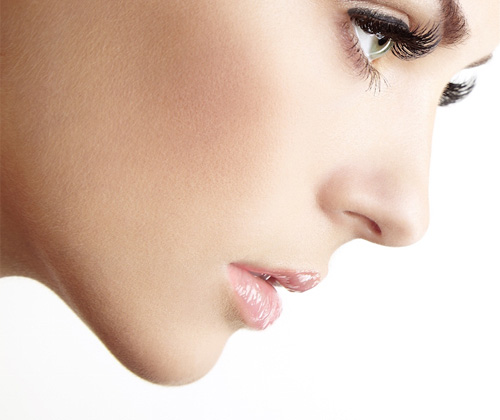 Well defined facial features are the most important traits of physical beauty. Visible contours and natural angles that are proportionate all create balance in your face and a more attractive appearance. Although patients who seek advice about facial cosmetic surgery often focus on structures such as the nose, the eyes, and the laxity of their skin, the facial plastic surgeon's assessment frequently identifies the lower third of the face as an area that could be surgically modified to improve overall facial appearance and harmony. The profile of a patient can be significantly altered with either a chin augmentation or reduction procedure. This, in turn, has a significant effect on overall facial symmetry.
The specific medical terms mentoplasty and genioplasty are used to refer to the reduction and addition of material to a patient's chin. This can take the form of chin height reduction or chin rounding by osteotomy, or chin augmentation using implants.
This operation is often, but not always, performed at the time of rhinoplasty to help balance the facial proportions.
Chin implants are used to build a better profile.[1] Patients' own bone is donated from ribs and from part of the pelvis (the ilium.) Use of donated bone implants in chin augmentation, even the patient's own, appears to be associated with a higher rate of infection.
Chin augmentation is still popular because it is a relatively easy operation for the patient while producing noticeable changes in the silhouette of the face.
Procedure
Plastic surgery on facial bones or with facial implants is best performed on people whose head and skull have reached physical maturity, which generally occurs in late adolescence (after 17-18 years of age).
The most common type of surgical chin augmentation uses a chin implant. Types of implant include Silicon, Polyethyline, Polytetrafluoroethylene (Gore-Tex), Acellular Dermal Matrix (AlloDerm) each having some advantages or disadvantages. An incision is made either under the chin or inside the lower lip, a pocket is made and the implant placed into the pocket. Some chin implants are fixed to the mandible, while others are held in place by the pocket itself.
Another surgical chin augmentation uses the lower prominence of the mandible as the "implant." Known as a sliding genioplasty, the procedure involves cutting a horseshoe-shaped piece of bone from the lower border of the mandible known as an osteotomy. For chin augmentation, the piece of bone is advanced forward to increase to projection of the chin. The piece can also be recessed backward for a chin reduction. The new position is held in place with a titanium step plate using titanium screws. The bone segment can also be fixated with 26 or 27 gauge wires and IMF (wiring the jaw shut) for 3-4weeks.
Recovery-
A facial dressing will be in place for a period of 3-5 days to support the position of reshaped bone or implant. There will be some initial swelling around your chin area which will subside in a week or two. Preoperatively cessation of smoking and use of alcohol recommended for 2-3 weeks. Postoperatively must follow the same as well as avoid any strenuous activity, gym workout and any contact sports for a period of 4-6 weeks. You can resume light activity on the day of surgery and would be able to return to work and your usual activities within 5 - 7 days. Normal diet can be resumed in a week of the surgery.
Result-
The results of the Genioplasty / Chin Augmentation surgery are immediate and lasting for whole life as it is a permanent way to achieve a strong appealing chin. The overall results can be appreciated after approx six weeks to six months.
Potential Risk & Side Effects-
The usual complications are relatively minor and include swelling, hematoma (blood pooling), weakness or numbness of the lower lip, which usually does not last long. Other, less common risks include infection, bony changes and displacement of the implant. Seeking an experienced surgeon can help reduce your risks of complications. Having long teeth with a short mandible height is a relative contraindication for an osseous genioplasty or an aggressive bony reduction.
Chewing should be kept at a minimum immediately after this procedure, and patients are recommended to eat only soft food and drink for a time after the surgery.
Photo Gallery
FAQ