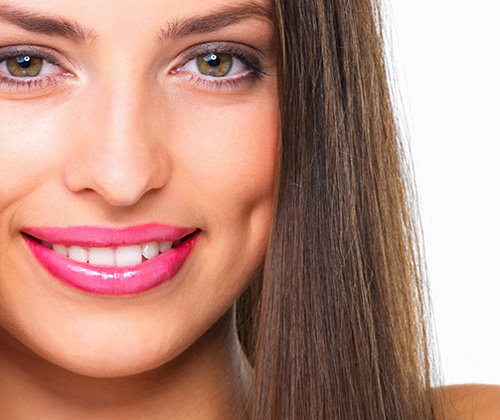 The Cheek Dimple is an area of the face that usually dynamically appears when a person smiles. Natural dimples are longitudinal depressions of 0.5–1.5 cm. A natural dimple is actually formed when there is a small defect in the cheek musculature (most often the buccinator muscle). The skin overlying this small defect is stuck down to the underlying connective tissue & smiling musculature and creates a dimple in the skin while smiling. "In some cultures, such as Asian and Indo-ethnic sub-groups, tend to prefer dimples on one's cheek, as it is purported to be a sign of attractiveness, good fortune and veracity."
Positioning of the dimple
Generally, the position of the dimple is marked by the patient in front of the mirror. If the patient is undecided as to the site of the dimple, another landmark described from the cosmetic viewpoint is the intersection of a perpendicular line dropped from the external canthus and a horizontal line drawn from the angle of mouth, as reported by Boo-Chai. However, we feel that the position of the dimple marked by this method is too low. We consider the position of the dimple at the point of intersection of the perpendicular line dropped from the external canthus and horizontal line drawn from the highest point of the cupid's bow laterally. It has also been our observation in patients having natural dimples that if the person sucks his cheeks inside, the area of the maximum depression is the area of the dimple. Similarly, the patient is asked to create a negative suction and suck the cheeks inside. The site of the maximum depression is the marked site of the dimple.
Procedure
Dimple Creation is a Quick In-Office procedure that can be performed under local Anesthesia and you will be awake during the procedure. To create a dimple, a small painless incision is made in the inside of your cheek. There is no incision or scar on the outside skin. A small suture is passed through the inside of the cheek and comes out through skin and it again goes inside mouth, where the dimple is desired, when this suture is tied over a bolster (both on outer surface & inner mucosal surface) it causes a dimpling in the overlying skin.
Postoperative care
The patient is discharged immediately with antibiotics and analgesics. Meticulous oral hygiene with mouthwash and oral rinse is of utmost importance. The bolster stitch is removed on postoperative day 7. Initially, there is a static dimple which deepens on animation, but gradually with time there is only a hint of dimple when static and accentuates on animation.
Complication & Risk
There are chances of haematoma, oedema, bleeding, injury to the buccal branch of the facial nerve, ischaemia of the mucosa. But in expert hand and with meticulous technique complication are minimum.
Photo Gallery
FAQ