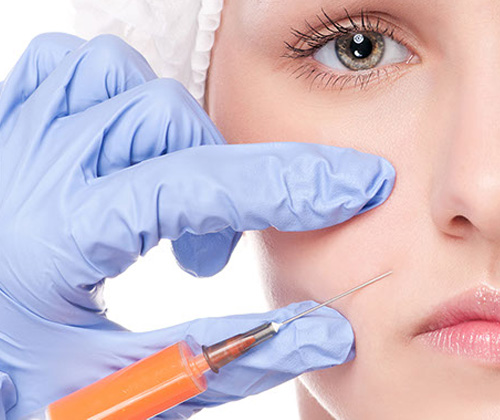 Besides wrinkling and gravity, volume loss to the face has become increasingly recognized as an important component to the aging process, which can be restored with either office-based fillers or facial fat grafting. Fat grafting is not a treatment for all aging, just the part that involves loss of volume. Volume loss is particularly more pronounced around the eyes, cheeks, and jawline, where fat grafting can play the greatest role in creating a balanced and comprehensive rejuvenation strategy for the face that may include blepharoplasty (cosmetic eyelid surgery) and/or a facelift. There are advantages to using a patient's own fat for an implant material. It is readily available, is a living tissue, will not be rejected, feels natural and can be replenished. Many surgeons feel that fat contains abundant stem cells which serve to assist rejuvenation.
Procedure-
Fat grafting involves removing fat from one's own abdomen or thighs to put into certain regions of the face that start to lose fat. Only tiny amounts of fat are removed so this should not be equated with liposuction. Using low-vacuum liposuction and non-traumatic blunt cannulas (which are 1 mm hollow tubes with a blunt end and a small hole through which the fat comes out). The fat cells are then purified, mixed with freshly prepared autologous PRP and slowly injected through tiny skin incisions into the tissue of the recipient site utilizing a small syringe and cannula. The fat is injected as little droplets throughout the areas of facial hollowness. By using this microdroplet technique, tiny droplets are placed throughout the tissues assuring that each transferred fat cell will have an adequate blood supply to achieve the permanent survival of the injected fat cells. The fat injections add fat to the areas beneath the skin & subcutaneous tissue, creating fullness that results in a lasting, youthful appearance of the injected area.
Since fat is a living tissue, it will become part of the body's natural tissue when transplanted. Some of the fat is digested by the body and most of the times several injections are performed in the same area before the results are permanent. Although some patients may get a permanent result with a single injection, most patients will need a second or third session to obtain a permanent result.

The abdomen is infused with a dilute local anesthetic and then the fat is gently harvested.
---

The fat is then separated from the liquid portion and placed in the injection syringe.
---

A small puncture is made (in this case for cheek augmentation) and the fat is then injected into the deeper tissues.
---
Indications-
The usual indications of fat grafting are:
Sunken & hollow appearance around the eye,
Filling of sunken cheek,
Increase lip size,
Correct facial folds,
Laugh lines and wrinkles,
Increase cheekbone size and contour,
Fill in acne or traumatic scars,
Fill in facial defects,
To augment smaller breasts,
To enhance penile girth,
To resurface any depressed area of body due to trauma, injections or abscess.
Limitations and Risks-
Fortunately, significant complications from fat grafting are infrequent. This procedure is usually performed without any major problems. The risks in most surgeries are similar. Some of the potential complications of all surgeries are:
Adverse reaction to anesthesia, Hematoma or seroma (an accumulation of blood or fluid under the skin that may require removal), Infection, Changes in sensation, Scarring, Allergic reactions, Damage to underlying structures, Unsatisfactory results that may necessitate additional procedures.
You can help minimize certain risks by following the advice and instructions of your plastic surgeon, both before and after your fat transfer.
Photo Gallery
FAQ