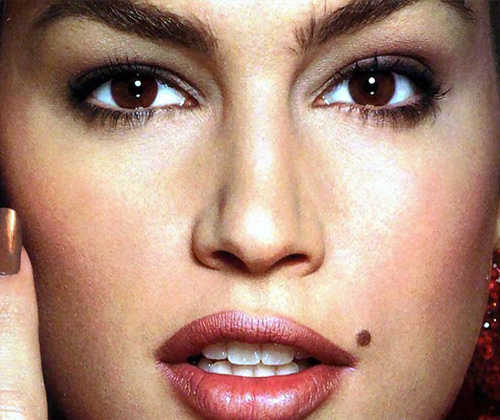 Moles or Nevi are the local raised or flat collection of skin pigment (melanin) under the skin. It may be hairy or non-hairy. Some people are born with moles, other moles appear over time. Most of the population has moles, warts, pigmented spots and other lesions on their head, face and neck. Most of these growths are benign; however, some lesions may be pre malignant or malignant. Moles that change shape, texture, color or size should be examined and possibly removed for biopsy.
Moles or Nevi are frequently removed for a variety of reasons, like their odd-looking appearance or risk of developing skin cancer (giant nevi has a tendency to develop skin cancer).
They can be removed by following methods
Excision (cutting) in natural skin crease line followed by very fine stitches, so that after few weeks of surgery they are almost invisible. Even the bigger moles can be treated by this method may provide excellent result & almost invisible scar lines.
Round Excision with a punch or blade. This method is useful for very tiny moles that are less that 1-mm in size
Larger nevi (giant nevi) may need tissue expansion for its complete removal
Radio-Frequency Surgery- Radio-frequency surgery is a new technology that utilizes radio-waves to melt away or cut tissue. This unique technology is extremely gentle to the tissues and causes much less damage than standard electro-surgery or other cutting or freezing techniques. If the lesion is suspicious biopsy the lesion before removal. For benign lesions, a numbing cream is applied and a small amount of local anesthesia is injected with an ultra small needle under the mole. Using specialized radio-frequency instruments the mole is melted away down to the normal tissue. This generally takes less than a minute. After removing the mole, a raw area the size of the mole is left. The surgical site is covered with an antibiotic ointment and will progress to smooth pink skin over the next 5-6 days. At this time the area can be covered with makeup if desired. The pink area will persist for several weeks (or longer in rare cases) and eventually fade to normal skin color. Although most moles can be removed with a single treatment session, a small percentage may require an additional radio-frequency treatment to totally remove the mole.
Warts
Common warts are local dome shaped irregular ferny type of growths in the skin that are caused by human papilloma virus (HPV) infection. It is more common in those people who are going to barber's shop for shaving due to cross infection of HPV Virus from other people.
Treatment for Common Warts
The best, easiest & most effective treatment of wart is fine-feathered low voltage electro-fulguration using low voltage high frequency diathermy. The fine controlled local heat prevents recurrence of warts in future. The use of electro fulguration in an experienced hand is the best treatment available for the warts and may lead to almost none or negligible scarring, with no chance of recurrence.
Application of Salicylic-acid preparations (available as drops, gels, pads, and plasters) to warts may also lead to dissolution of protein keratin (which makes up most of both the wart and the thick layer of dead skin that often tops it) and cure from the warts.
Photo Gallery
FAQ