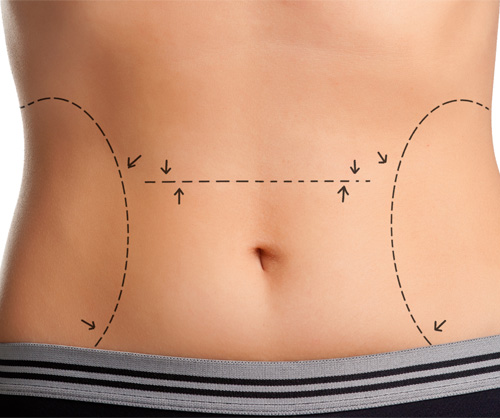 Abdominoplasty
or
tummy tuck
involves the removal of excess skin from the middle and lower abdomen. If someone also has excess of fat, combination of liposuction is done along with the skin resection. During abdominoplasty, the abdominal wall muscles and fascia are also tightened to restore the tone. Tummy tuck surgery can produce dramatic changes in a patient's waistline and frontal abdominal contour. This type of surgery is usually sought by patients with loose or sagging tissues after pregnancy or major weight loss.
Abdominoplasty operations are frequently subdivided into categories. Depending on the extent of the surgery, a complete abdominoplasty can take from 3 to 5 hours. A partial abdominoplasty (mini-tuck abdominoplasty) can be completed between 1 and 2 hours.
Partial or Mini abdominoplasty
In partial (or mini) abdominoplasty a smaller incision is made and the skin and fat of the lower abdomen are detached in a more limited fashion from the muscle fascia. The skin is stretched down and excess skin removed. The navel replacement is not necessary as it is done when the amount of loose skin is minimal and the excess fat deposits are located below the navel.
Complete abdominoplasty
In complete (or full) abdominoplasty incision is made from hip to hip just above the pubic area. Naval is cut free from surrounding skin and repositioned after excess skin is removed and abdominal wall tightened. It addresses loose excess skin involving whole of anterior abdominal wall.
Extended abdominoplasty
An extended abdominoplasty is a complete abdominoplasty plus a lateral thigh lift. The resulting scar runs from the posterior axillary line (when placing your open hands on your hips, the thumbs lie along the posterior axillary line.) The operation does all of the abdominal contouring of a complete abdominoplasty and allows further improvement of the flank (waist), as well as smoothing the contour of the upper lateral thigh.
Circumferential abdominoplasty
A circumferential abdominoplasty is an extended abdominoplasty plus a buttock lift. The resulting scar runs all the way around the body, and the operation is also called a Belt Lipectomy or lower body lift. This operation is most appropriate for patients who have undergone massive weight loss.
Procedure
Step 1 – Anesthesia
The choices include intravenous sedation and general anesthesia. Your doctor will recommend the best choice for you.
Step 2 – The incision
A full tummy tuck procedure requires a horizontally-oriented incision in the area between the pubic hairline and navel. The shape and length of the incision will be determined by the degree of correction necessary.
Through this incision, weakened abdominal muscles are repaired and sutured while excess fat, tissue and skin are removed.
A second incision around the navel may be necessary to remove excess skin in the upper abdomen.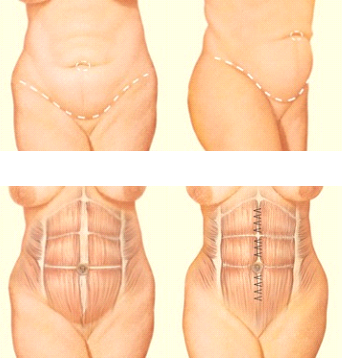 Step 3 – Closing the incisions
Sutures, skin adhesives, tapes or clips close the skin incisions.
Step 4 – See the results
Your abdominoplasty procedure will result in a flatter, firmer abdominal contour that is more proportionate with your body type and weight.
The final results may be initially obscured by swelling and your inability to stand fully upright until internal healing is complete.
Within a week or two, you should be standing tall and confident about your new slimmer profile.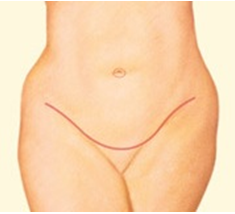 Step 5- Post Operative Care & Recovery
After surgery you will have to stay in bed for approximately 3 days. Whilst in bed you will be advised to lay with your legs in a bent position to help reduce the strain on the abdominal area.
A supportive abdominal binder or compression garment can minimize swelling / bruising, and support the repaired tissues, must be worn for approximately 3 months. You may not be able to stand straight for some time due to the pulling, but it is important that you start walking for short periods as soon as possible after surgery. This will help to normalize the blood flow.
It is important not to perform any strenuous activity for approximately 4-6 weeks after surgery to avoid putting unnecessary strain on the wound. Tension can stretch your incisions and increase scarring. The recovery period is usually about 2 weeks. While there may still be some swelling and bruising, most people are happy with the result and return to work after approximately 4 weeks. You should consult your surgeon as to when you may return to work. Patients are advised to avoid all forms of nicotine for a month or longer prior to surgery and also during the recovery period.