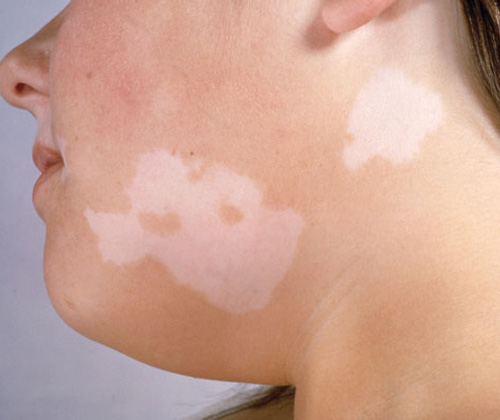 Vitiligo (white patch or SAFED DAAG) is a skin condition in which there is a loss of brown color (pigment) from areas of skin, resulting in irregular white patches that feel like normal skin. Vitiligo appears to occur when immune cells destroy the cells that produce brown pigment (melanocytes). This destruction is thought to be due to an autoimmune problem, but the actual cause is unknown. It causes severe cosmetic distress, particularly in darkly pigmented skins and is also associated with a great social stigma. It has a profound psychological impact and greatly affects the quality of life. In addition, the depigmented skin becomes photosensitive on the exposed areas of the skin, leading to redness and burning on sun exposure.
Depending on the type, extent, and duration of vitiligo, conventional medical therapies such as topical and systemic corticosteroids, topical immunomodulators, and phototherapy are not always successful, and repigmentation is often incomplete. Vitiliginous lesions occurring on sites such as lips, acral areas, nipples, and genitals are particularly resistant to medical treatment.
Surgical Indications
Surgery in vitiligo is indicated in patients with stable vitiligo (>2 years) not responding to medical treatment or causing severe psychosocial distress. It can also be performed in patients with leukoderma due to burns, piebaldism, inactive discoid lupus erythematosus, and other stable disease states causing permanent depigmentation.
Contraindications for Surgery
Vitiligo surgery is contraindicated in patients with active unstable vitiligo and in childhood vitiligo. In children, progress of the disease is difficult to predict and by and large they respond better to medical therapy as compared to adults. In addition, surgery has to be carried out under general anesthesia, which is another added risk factor in children.
Surgical Procedures
The basic principle of surgical treatment in vitiligo is to achieve cosmetically acceptable repigmentation of the vitiliginous areas by transplantation of autologous melanocytes from the unaffected pigmented skin to the lesional skin. It cannot stop the progression of the disease.
Autologous Skin Grafts- Skin may be grafted from normally pigmented areas and placed onto areas where there is pigment loss. The white portion of skin is rubbed off or peeled off very superficially and a very thin skin graft contacting only the top most layer of skin with melanin pigment is applied over that. This is the most satisfactory method of treatment of vitiligo and considered as GOLD STANDARD treatment for vitiligo.
Cultured Autologous Melanocyte Transplants- In this procedure, plastic surgeon takes a sample of the patient's normal pigmented skin and send it to a laboratory for special cell culture to grow melanocytes. When the melanocytes in the culture solution have multiplied, surgeon transplants them to the patient's depigmented skin patches. This technique allows larger areas to be treated in a single session using relatively smaller donor site. Also color matching of treated areas is excellent. This sophisticated technique needs a special laboratory for culture.
Non-cultured Autologous Melanocyte Transfer- It consists of separation of epidermal cells obtained from donor site & spreading these cells as a suspension on the depigmented & dermabraded recipient area. This technique allows larger areas to be treated in a single session using relatively smaller donor site. Also color matching of treated areas is excellent.
Several cover-up makeups (waterproof skin colors) can mask vitiligo.
In extreme cases when most of the body is affected, the remaining skin that still has pigment may be de-pigmented to provide a uniform color to the skin. This is a permanent change that is used as a last resort.
It is important to remember that skin without pigment is at greater risk for sun damage. Be sure to apply a broad-spectrum (UVA and UVB), high-SPF sunscreen or sunblock and use appropriate safeguards against sun exposure.
Complications of Surgery
Complications are uncommon, although hyper-pigmentation, incomplete pigmentation, perigraft halo, and graft rejection may occur.
Photo Gallery
FAQ