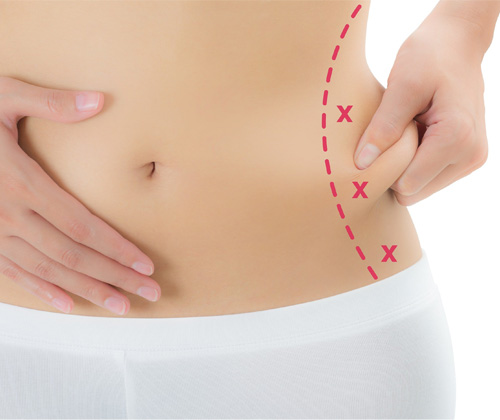 Liposuction; also called lipoplasty, liposculpture or simply lipo; is a type of cosmetic surgery that removes fat from the specific areas of human body to improve body contours and proportion; that cannot be lost by diet or exercise. Liposuction is not an overall weight-loss method, it is not a treatment for obesity. Liposuction does not remove cellulite, dimples, or stretch marks. The best liposuction candidates are those who have good skin tone and elasticity who are of relatively normal weight or a little overweight, but have isolated pockets of fat that cause certain areas of their body to appear disproportionate. The patient needs to be in good health - people with circulation (blood flow) problems, such as coronary artery disease, diabetes, as well as those with weakened immune systems should not undergo liposuction. Candidates should be over the age of 18 years.
Liposuction Procedure-
Step 1 – Anesthesia
The choices include intravenous sedation and general anesthesia. Your doctor will recommend the best choice for you.
Step 2 – The incision
Liposuction is performed through small, inconspicuous incisions. First, sterile liquid solution, containing local anesthetic agent and vasoconstrictor agent, is infused to reduce bleeding and trauma and to provide some post operative pain relieve.
Step 3 - Fat removal
In Tumescent Liposuction several liters of a saline solution with a local anesthetic (lidocaine) and a vessel-constrictor (epinephrine) are pumped below the skin in the area that is to be suctioned. The surgeon will insert the cannula, through the incision (or incisions), into the deep fat layer beneath your skin. Using back and forth movements, the liposuction surgeon uses the cannula to break up the unwanted fat deposits beneath the skin; the dislodged fat is then suctioned out of the body using a surgical vacuum or syringe attached to the cannula. A liposuction operation may last for 1-4 hours.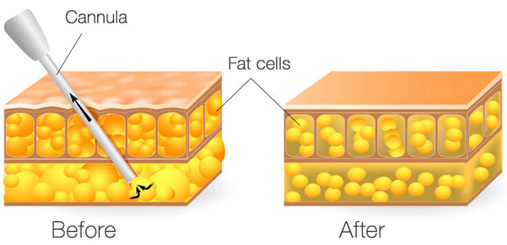 Before & After Liposuction- Cross section diagram
Problem areas that can be addressed with liposuction-
Abdomen, Chest, Back, Buttocks, Hips, Flanks (love handles), Inner knees, Outer Thigh (Saddlebags), Inner Thigh, Upper Arm, Neckline and the area under the chin (sub-mental).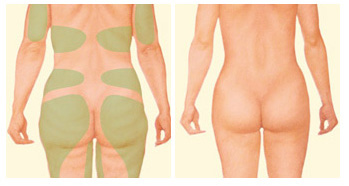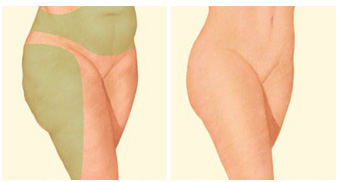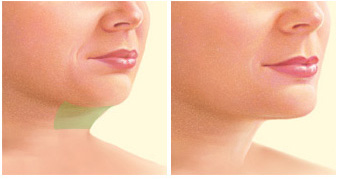 Step 4 - Closing the Incisions
When the fat removal part of the liposuction procedure is complete, the incisions can either be closed with a few stitches or left open. This normally depends on your body sculpting surgeon preference, though leaving the incisions open can reduce the amount of bruising and swelling that can take place after a liposuction operation.
Step 5 – See the results
Depending on the type of liposuction you are undergoing, the procedure may be performed as an outpatient procedure at the doctor's office or surgery center, or if large amounts of fat are being removed, the procedure will be done in a hospital and may require an overnight stay.
Your improved body contour will be apparent when the swelling and fluid retention, commonly experienced following liposuction, subside. The patient will be fitted with either an elasticated pressure garment for the targeted area after the operation for 3-4 months. With continued practices of healthy diet and fitness, the loss of excess fatty tissue should be permanently maintained. However, substantial weight gain can alter an otherwise permanent result.