OVERVIEW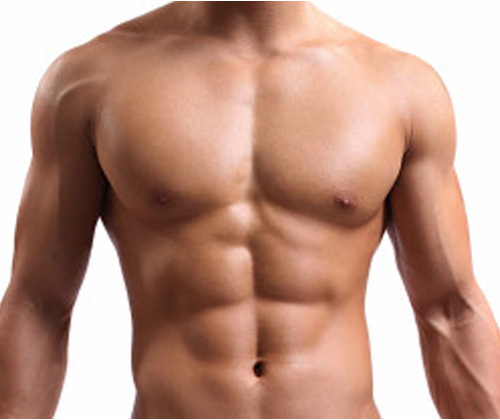 Men in relatively good shape that desire a more defined abdomen are the ideal candidates for six pack abs, also known as
Abdominal etching
or
Ab etching
. Male ab surgery; removes excess fat, and reshapes the abdominal region; enhance the abdominal muscles that are hard to get through diet and exercise alone. Abdominal etching uses liposuction to accentuate the abdominal rippling, and create a sculpted ab appearance.
SURGICAL TECHNIQUE
Abdominal etching is done with a special tumescent liposuction technique. The procedure removes and sculpts fatty tissue residing under the skin. Prior to the procedure, the surgeon makes detailed markings of the patient's flexed ab muscles and uses the markings to remove fat and highlight the patient's individual muscular structure. During the surgery, small incisions are made within the natural contours of the abdomen. This helps minimize scarring. Through these incisions, thin tubes called cannulas are inserted and fat is removed in some areas, thinned in others, and rearranged to accentuate the abdomen (rectus) muscles and the Linea Alba (the line running down the center of the abdomen) and shapes or sculpts the abdomen to create a more athletic contour. Abdominal etching is a variation of liposuction used to create the illusion of six-pack abs. It is very similar to abdominal liposculpture. Abdominal etching differs from liposuction in that small amounts of fat are left behind in specific areas to imitate muscle fullness.
The procedure is suitable for patients who are already in shape and who have between one and two centimeters of "pinchable belly fat". It is not suitable for patients with larger accumulations of abdominal fat seeking to significantly reduce their belly size or accomplish weight reductions as the amount of fat removed is fairly small. A traditional liposuction is more suitable for those patients.
DURING/AFTER SURGERY
All male abdominal etching procedures are performed under general anesthesia as an outpatient procedure at an accredited surgical facility. The surgery typically lasts about an hour. Following surgery, there will be some swelling and bruising in the abdomen. A compression garment should be worn for 3-6 weeks. Most patients are able to resume a normal work schedule within 1 week and incorporate exercise within 3 weeks. The full effect of surgery should be noticed within 6 months.